《绿毛怪格林奇》电影精讲(视频)
中国日报网 2019-02-22 14:23
影片简介: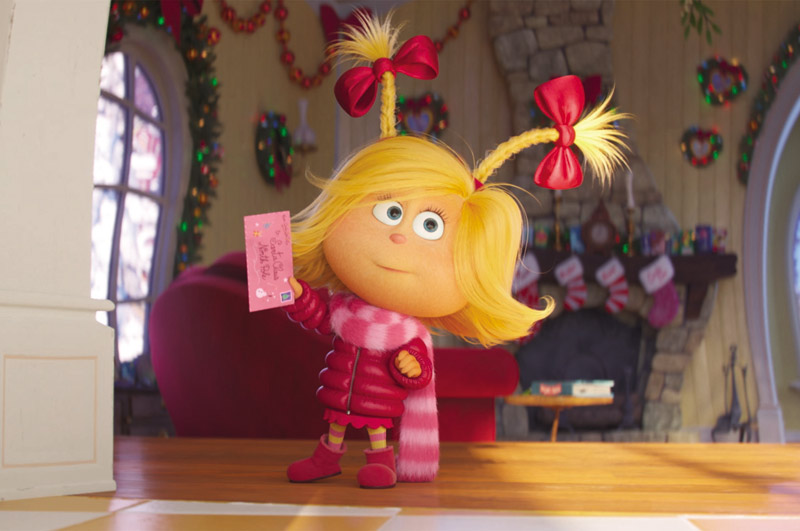 本片根据"苏斯博士"(Dr. Seuss)的著名畅销童书改编,故事主角是一个绿色的怪物格林奇(Grinch),他非常非常痛恨圣诞节,因为他是一个孤儿。为了不让人们过圣诞,他把所有圣诞礼物都偷走了。最后还是一个纯真的小女孩融化了他冷漠的心。
精彩词句学起来:
1. Yes, Who-ville is great, that is known far and wide. 是的,呼呼镇很棒,远近皆知。
2. We can't be out of food. 我们不会是没吃的了吧。
3. How much emotional eating have I been doing? 我到底暴饮暴食了多少?
4. They still got you on the night shift, huh? 他们还在让你上夜班?
5. For 53 years, I've put up with it. 53年来,我一直忍受着。
6. And if I start to drift off, I'll just open them wider! 如果开始打瞌睡,我就把眼睛再睁大一点!
7. Now, let's pick up the pace and see how she handles. 现在加快步伐,看看她能不能应付。
8. Some were out buying presents, others just milled about. 有的出去买礼物,有的到处转悠。
9. I knew you wouldn't let me down. 就知道你不会让我失望。
精彩片段对白:
NARRATOR: The Grinch was now ready to start his big trip. He stood like a captain aboard a great ship. Yes, the time had now come to take off like a shot.
GRINCH: Here we go, Max. Let's see what you've got! Hyah!
(MAX BARKING)
GRINCH: What? Max? Max, are you okay? Huh? Yeah, Max! Attaboy! Go, boy! Go!
(MAX BARKING)
(GRINCH LAUGHS)
NARRATOR: And down the Grinch came on his great fateful ride, toward the good homes of Who-ville and the Christmas inside. He had planned it and prepped it, big detail to small. Yes, he'd get rid of Christmas now, once and for all.
GRINCH: You take the outside, I'll take the inside.
(MAX GRUNTS)
GRINCH: House number one.
(CLICK, ELECTRICAL BUZZING)
NARRATOR: He was ready to pounce and set the score right. He'd make up for the past, and he'd do it tonight.
GRINCH: Okay...now, let's steal Christmas.
(DEEP WHIRRING)
NARRATOR: He swept up their presents with the speed of a wiz. And he knew he'd cause sadness. Only theirs now, not his.
(CHUCKLES)
(WHIRRING)
(CRUEL CHUCKLING)
(MAX BARKS)
NARRATOR: All this excess and nonsense, it was all about greed. About meaningless stuff that they didn't even need.
GRINCH: Yeah. (CHUCKLES)
NARRATOR: The Grinch went to work. He scooped up the toys. He raced against time. He raced against joy. He hit a few snags as he made his way through. (CAT YOWLING) An angry orange cat... (SCREAMING) and a sleepwalking Who. (GASPS) Huh?
SLEEPWALKER: Thank you, Mommy.
NARRATOR: He stole pop guns and bicycles, roller skates, drums, checker boards, tricycles, popcorn and plums. Gadgets and gizmos, and dolls with strange names, goofballs and shloof-balls and video games. And he swiped and he poached. Yes, the stealing was on. And this day that he hated, well, he made it be gone.
GRINCH: This is it, the last house. ? Mmm, mmm, dashing through the snow. In a one-dog open sleigh. One more house to go, and Christmas goes away. ? Ha! (DEVIOUS CHUCKLE) Huh? (GROANS) Oh, what the heck? Ah. Huh? (GASPING)
(BELLS TINKLING)
CINDY: He's here!
GRINCH: Whoa. What the...? Aah! Whoa. Whoa! Aah! (GRUNTING, GROANING) How do I get out of this?
CINDY: Santa Claus.
GRINCH: Oh. Uh, hello. A little help, please?
CINDY: I'll let you down. Just give me a minute.
GRINCH (FORCED CHUCKLE): Oh, that would be great.
CINDY: I'm coming. Just trying to remember...which cord it is.
(GRUNTS)
CINDY: Oh, no!
(GROANS)
CINDY: I'm so sorry. Are you okay?
GRINCH: Yeah. I-I guess so.
CINDY: Let me help you.
(GROANS)
CINDY: Sit down here.
GRINCH: Whew.
CINDY: Drink this. It'll make you feel better.
GRINCH: Uh...thanks.
CINDY: Wow. I can't believe it's really you.
GRINCH: Uh...yeah.
CINDY: I'm so sorry about the trap and everything, but I really need... Hey. Why are you taking our Christmas tree?
GRINCH: Well...uh, one of the lights wasn't working, so I thought I'd take it back to the workshop and see if I could fix it.
CINDY: I didn't know you did that.
GRINCH (FAKE CHUCKLE): Yeah. Sure. Now, why don't you go back upstairs to bed, and then when you wake up, the tree will be fixed and your presents will be waiting under it.
CINDY: Wait. You don't understand. I don't want presents.
GRINCH (LAUGHS): Of course you do. Everyone wants presents.
CINDY: No, no, really, I don't. I want you to help my mom.
GRINCH: Y-Your mom?
CINDY: Yeah. She works so hard and is always doing stuff for other people. And I just want her to be happy.
GRINCH: You want me to help...your mom?
CINDY: You're Santa. You make people happy. And everyone should be happy, right?
GRINCH: Y-Yeah, I...I guess they should.
CINDY: Santa, are...are you okay?
GRINCH: What? Uh...yeah. I'm fine. (FAKE CHUCKLE) Now, why don't you go back up to bed, hmm?
CINDY: Okay. I wish you could celebrate with us tomorrow. We all get together and sing. It's so beautiful that if you close your eyes and listen, all of your sadness just goes away.
GRINCH: That sounds nice.
(LAUGHS)
GRINCH: Huh?
CINDY: Thank you, Santa. Good night.
GRINCH: Good-good night.
(中国日报网英语点津 陈丹妮)
中国日报网英语点津版权说明:凡注明来源为"中国日报网英语点津:XXX(署名)"的原创作品,除与中国日报网签署英语点津内容授权协议的网站外,其他任何网站或单位未经允许不得非法盗链、转载和使用,违者必究。如需使用,请与010-84883561联系;凡本网注明"来源:XXX(非英语点津)"的作品,均转载自其它媒体,目的在于传播更多信息,其他媒体如需转载,请与稿件来源方联系,如产生任何问题与本网无关;本网所发布的歌曲、电影片段,版权归原作者所有,仅供学习与研究,如果侵权,请提供版权证明,以便尽快删除。